The Sebastian River Area (SRA) is home to many unique and flavorful festivals. From frog legs and gator tail to clams and craft brews, your palate will love the culinary variety that our festivals have to offer! We also boast some of the biggest art, music, and nature festivals around!
---
Lifestyle & Media Auction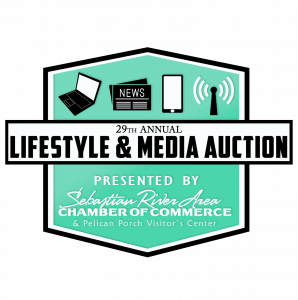 Tuesday | September 19, 2023
5:30-9:00pm
The Annual Lifestyle and Media Auction provides Chamber Members and attendees the opportunity to purchase media packages at a very reduced rate.  Our media partners donate their products, newspaper ads, website, radio time, and other unique marketing products so that the businesses can stretch their advertising budgets, and try new and different ways to expand their market share! There are also plenty of non media items donated by our Tourism-related Partners being auctioned off as well. 
REGISTER NOW: https://business.sebastianchamber.com/events/details/30th-annual-pearl-anniversary-lifestyle-media-auction-9-19-23-9433?calendarMonth=2023-09-01
---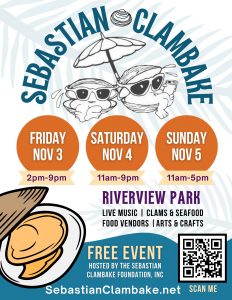 Sebastian Clambake Festival
November 3-5, 2023
Friday 2-9pm | Saturday 11am-9pm | Sunday 11am-5pm
Held the first weekend in November, this event serves up clams in a variety of ways, highlighting the working waterfront heritage of the Lagoon to our yearly visitors.  Held at Riverview Park, the Clambake Foundation gives thousands of dollars back to the community with their grant programs for capital improvement projects for not for profits. For more information, visit www.sebastianclambake.net
---
Light Up Night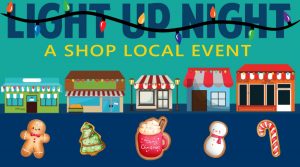 Friday | December 1, 2023
5:30-8:00pm
The entire business community opens its doors and lights up the night for residents and visitors showing their customers appreciation. On the first Friday after Thanksgiving weekend, kick off the holiday season with this very popular community-wide event. Businesses go all out with their decorations and serve old fashion eggnog, cookies and other holiday goodies as well as offering special deals and sidewalk sales.
---
Sebastian BrewFest
Saturday | December 2, 2023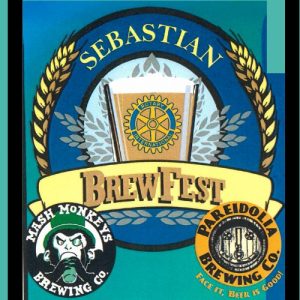 Hosted by the Rotary Club of Sebastian, this year's event is expected to be twice in size in attendance with more breweries, cideries and possibly some winereies too. Live Music up on the main stage. You've been to the Shrimpfest put on by the same group of folks, now experience the Brewfest. ONLY A BREWFEST!!! No children or pets allowed. Service animals with proper identification only. Thank you for complying with this small request. MUST BE 21+ to enter. RAIN or SHINE. Tickets will be $40 at the door!!!
What does Rotary do? We raise money and give back to the Sebastian City Parks and Recreation, local schools and clubs, scholarships and local non-profits.
---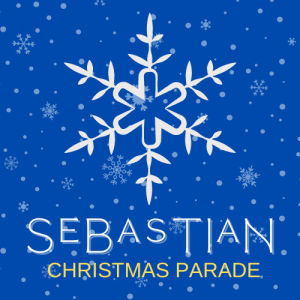 Christmas Parade (City Sponsored event)
Saturday | December 2, 2023
6:00- 8:00pm
A must see! Bring your lawn chairs and get ready to see our community ring in the holiday season. Parade starts at the boat ramp and continues to Riverview Park for a fun family celebration.
If your business or organization is interested in participating in the parade, please call the City of Sebastian for full details.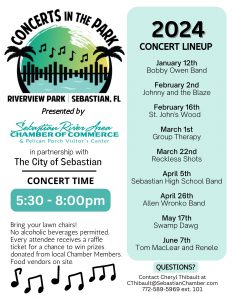 Concerts in the Park
Riverview Park | Sebastian, 32958
Concerts in the Park is a series of eight outdoor concerts held at Riverview Park, along the Indian River Lagoon. Presented in partnership with the City of Sebastian, the Sebastian River Area Chamber, and its business sponsors, this event brings live musical talent and promotes the Chamber businesses with style. Every attendee receives a free raffle ticket for a chance to win prizes donated from local Chamber Members. Food vendors on site.
Call the SRA Chamber for more information and sponsorship 772-589-5969.
__________________
CONCERT TIMES | 5:30-8:00pm
1/12/2024 | Bobby Owen Band
2/2/2024 | Johnny & The Blaze
2/16/2024 | St John's Wood
3/1/2024 | Group Therapy
3/22/2024 | The Reckless Shots
4/5/2024 | Sebastian High Schhol Band
4/26/2024 | Allen Wronko Band
5/17/2024 | Swamp Dog
6/7/2024 | Tom MacLear and Renele  *Special Centennial Celebration Event Night*
---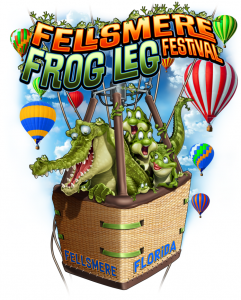 Fellsmere Frog Leg Festival

January 18-21st, 2024
Thursday & Friday 4pm - 11pm                                                                                                                            Saturday 10am – 11pm / Sunday 11am – 6pm
Downtown Fellsmere                                                                                                                                                          22 South Orange Street, Fellsmere, 32948
Four days of frog legs, carnival rides, and live entertainment, this volunteer-based event began as a way to raise money for the recreational needs of the children in Fellsmere.  A winner of two Guinness Book of World Records for most frogs sold at a festival, the Fellsmere Frog Leg Festival attracts over 80,000 people to the area and has donated hundreds of thousands of dollars back into the community over the last 31 years! Whether you're joining us for the famous mouthwatering frog leg and gator tail dinners, browsing the hundreds of booths for unique gifts, or listening to great music and enjoying the fun rides - you'll immediately know why this festival has become an annual tradition for so many. The main feature is, of course, the mouthwatering frog leg and gator tail dinners; however, there's also a huge variety of other tasty foods to choose from like hamburgers, hotdogs, pizza, fried dough, turkey legs, sandwiches of all kinds, ice cream, candy apples, popcorn and more. There are rides for the young ins' as well as wild and crazy rides for the more adventurous, and plenty of games to test your skills. There's free admission, free parking, and free entertainment. For more information, visit www.froglegfestival.com
---

Sebastian Fine Arts and Music Festival
January 20-21, 2024
Saturday | 10-5pm
Sunday | 10-4pm
Sat. 10am - 5pm / Sun. 10am – 4pm                                                                                          Riverview Park                                                                                                                                600 U.S. Hwy 1                                                                                                                                  Sebastian, FL 32958
The Sebastian Fine Arts and Music Festival began in 1999.  It features a juried art show and live musical performances under the shade of tall trees along the breathtaking Indian River Lagoon. With over 100 local professional artists, musicians and craftsmen showcasing their talents, the Fine Arts & Music Festival attracts over 20,000 residents and visitors annually. For more information, visit www.sebastianartshow.com
---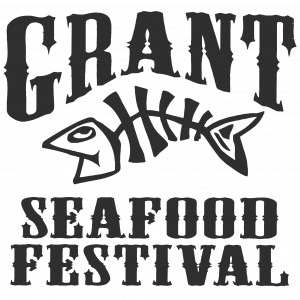 Annual Grant Seafood Festival
March 1-2, 2024                                                                                                                                                                            4580 1st Street, Grant, FL 32949
Enjoy some of the freshest seafood in Florida! Free admission, free parking, over 125 crafters exhibiting, live continuous entertainment, and a vast menu of delicious seafood, makes this one of the biggest festivals in town!
For more information, visit www.grantseafoodfestival.com
---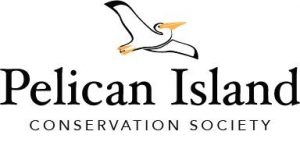 121st Anniversary of Pelican Island National Wildlife Refuge
March 15-17, 2024
Pelican Island National Wildlife Refuge                                                                                                              4055 Wildlife Way, FL 32949
Meet President Teddy Roosevelt, Wildlife Displays, Walking Tours, Kid's Fishing Demonstration, Pontoon Cruise, Fundraising Dinner
For more information, visit www.FirstRefuge.org
---
RiverDays & Craft Brew Hullabaloo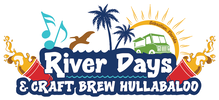 March 15-17, 2024
Riverview Park
Sebastian, Florida
RiverDays (Previously ShrimpFest) & Craft Brew Hullabaloo features locally made craft brew, live music, food and craft vendors, and family-fun activities. If you love craft beer or simply want to explore why Florida craft breweries are getting so much attention these days, this is a unique opportunity to sample local flavors and meet a few of the commercial brewers who will also be giving demonstrations.
There will be more than 20 breweries and many different craft brews to taste. Proceeds benefit community youth programs.
For more information, check out www.RiverDaysFL.com
---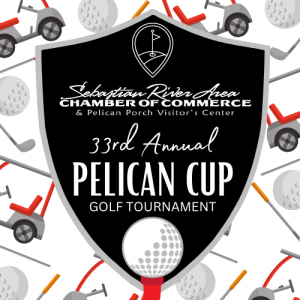 33rd Annual Pelican Cup Golf Tournament
May 4, 2024
Sandridge Golf Club                                                                                                                                                 5300 73rd St., Sebastian, 32958                                                                                                                                                                              
Format: 8am Shot Gun Start                                                                                                                                  Lunch preceeding event
Each year in May Chamber business leaders gather for a great day of golf, networking with fellow business members, and community leaders. Contact Cheryl Thibault, President/CEO at Cthibault@SebastianChamber.com   
---