The Sebastian River Area (SRA) is home to many unique food festivals. From frog legs and gator tail to clams and craft brews, your palate will love the culinary variety that our festivals have to offer! We also boast some of the biggest art, music, and nature festivals around!

Sebastian Fine Arts and Music Festival
January 15th & 16th, 2022
Sat. 10am - 5pm / Sun. 10am – 4pm
Riverview Park
600 U.S. Hwy 1, Sebastian, FL 32958
The Sebastian Fine Arts and Music Festival began in 1999.  It features a juried art show and live musical performances under the shade of tall trees along the breathtaking Indian River Lagoon. With over 100 local professional artists, musicians and craftsmen showcasing their talents, the Fine Arts & Music Festival attracts over 20,000 residents and visitors annually. For more information, visit www.sebastianartshow.com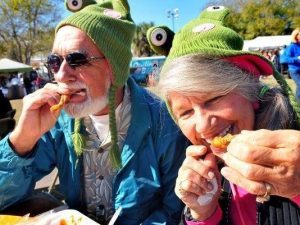 Fellsmere Frog Leg Festival

January 20-23, 2022
Festival Hours: Thursday & Friday 4pm - 11pm
Saturday 10am – 11pm / Sunday 11am – 6pm
Downtown Fellsmere
22 South Orange Street, Fellsmere, FL 32948
Four days of frog legs, carnival rides, and live entertainment, this volunteer-based event began as a way to raise money for the recreational needs of the children in Fellsmere.  A winner of two Guinness Book of World Records for most frogs sold at a festival, the Fellsmere Frog Leg Festival attracts over 80,000 people to the area and has donated hundreds of thousands of dollars back into the community over the last 31 years! Whether you're joining us for the famous mouthwatering frog leg and gator tail dinners, browsing the hundreds of booths for unique gifts, or listening to great music and enjoying the fun rides - you'll immediately know why this festival has become an annual tradition for so many. The main feature is, of course, the mouthwatering frog leg and gator tail dinners; however, there's also a huge variety of other tasty foods to choose from like hamburgers, hotdogs, pizza, fried dough, turkey legs, sandwiches of all kinds, ice cream, candy apples, popcorn and more. There are rides for the young ins' as well as wild and crazy rides for the more adventurous, and plenty of games to test your skills. There's free admission, free parking, and free entertainment. For more information, visit www.froglegfestival.com
ShrimpFest & Craft Brew Hullabaloo
March 18th-20th, 2022
Riverview Park
Sebastian, Florida
ShrimpFest & Craft Brew Hullabaloo features FREE entry and parking, live music, exciting kids' activities, loads of vendors and more. Festival goers can sample a variety of locally brewed craft beer on Saturday from 1:00 to 4:00. Area food trucks, local restaurants and organizations will compete for the bragging rights to the winning recipe and the coveted "Annual Golden Shrimp Award".  Everyone attending the festival can vote for their favorite dish. Are you allergic to seafood? The kids don't like shrimp? Don't let that stop you from enjoying a great weekend--pizza and other foods will be available. The ShrimpFest & Craft Brew Hullabaloo is a joint effort of the Rotary Club of Sebastian and the Fellsmere Exchange Club. Net proceeds raised from the event will benefit local youth sports teams and participating non-profit organizations throughout North Indian River County. For more information, check out https://www.facebook.com/shrimpfestFL
The 53rd Annual Grant Seafood Festival
March 5th & 6th, 2022
Featuring freshly made, local seafood like homemade crab cakes, delicious fried shrimp and conch fritters. This event brings over 40,000 seafood lovers to the area with an unbelievable 100+ craft show vendors and round the clock music. For more information, visit www.grantseafoodfestival.com
Pelican Island Wildlife Festival

Takes place at Riverview Park in Sebastian to celebrate the first national wildlife refuge established in our country by President Theodore Roosevelt back in 1903.  This very special day unites all the environmental groups in our area who promote the preservation and protection of our historical and natural resources. For more information, visit www.firstrefuge.org
Sebastian celebrates the Fourth of July with its Freedom Festival,  a good old fashioned hometown parade and an all day party in the park with fireworks in the evening. Over 10,000 people show up for this patriotic extravaganza.
The Sebastian Clambake Festival
November 5-7, 2021
Held the first weekend in November, this event serves up clams in a variety of ways, highlighting the working waterfront heritage of the Lagoon to our yearly visitors.  Held at Riverview Park, the Clambake Foundation gives thousands of dollars back to the community with their grant programs for capital improvement projects for not for profits. For more information, visit www.sebastianclambake.com
Concerts in the Park: The Concert Series, in its  twenty-third year, is a series of five out- door concerts held at Riverview Park, near the Indian River Lagoon, from January to May every year.  Presented in partnership with the City of Sebastian, the Chamber and its business sponsors, this event brings musical talent and promotes the Chamber businesses with unique style.  Sponsorships for the five concerts are $1000, and businesses may also offer gift certificates, prizes and promotional items in raffles for the audience.
Chamber Golf Tournament: Each year in May Chamber business leaders gather for a great day of golf, networking with fellow business members and community leaders at the Sebastian Municipal Golf Course.  Sponsorship packages are available to enhance your visibility at this event.  Let us know if you are interested in participating in this event!
Media Auction: The annual Media Auction, the brainchild of one of our marketing specialists, provides members and attendees the opportunity to purchase media packages at a very reduced rate.  Our media partners donate their products, newspaper ads, website, radio time, and other unique marketing products so that the businesses can stretch their advertising budgets, and try new and different ways to expand their market share!
Light Up Night: The whole business community opens its doors for the residents, and visitors, and holds a good old fashion customer appreciation evening. On the first Friday after Thanksgiving weekend we jump start the holiday season with a very popular Light Up Night, the businesses go all out with their decorations, and serve old fashion eggnog, cookies and other holiday goodies!  Sidewalk sales, businesses partnering together help promote the Sebastian area, create ambiance, and promote the business community!